The future of Urban Air is about mobilizing our energy from words into actions. What will the next park or High Line look like? We have received a number of inspirational images from landscape architecture students from across the country which will guide Urban Air in our future projects. Based on a vote conducted by our members at our March 19th, 2014 Urban Air Winter AffAIR to Remember event at Soho House, we have included the most popular images below:
La Avenida de Parque (1st Place Winner)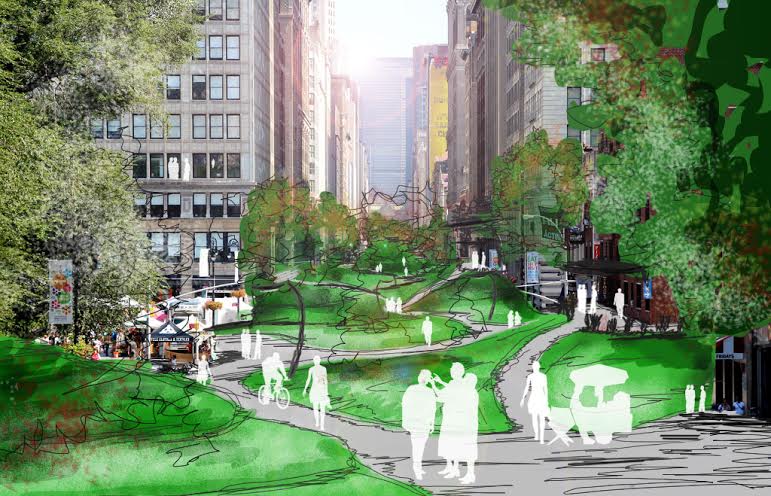 La Avenida de Parque modifies the existing Park Ave in NYC by designing rolling hills and meandering pathways for persons to move through the parque/park. Wandering hills allow opportunities for people to enter the park from one to three stories above ground level.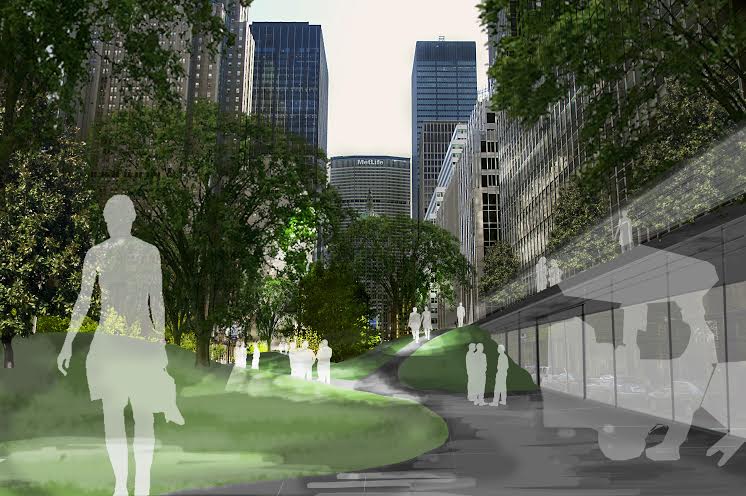 Elevating Green (Runner-Up)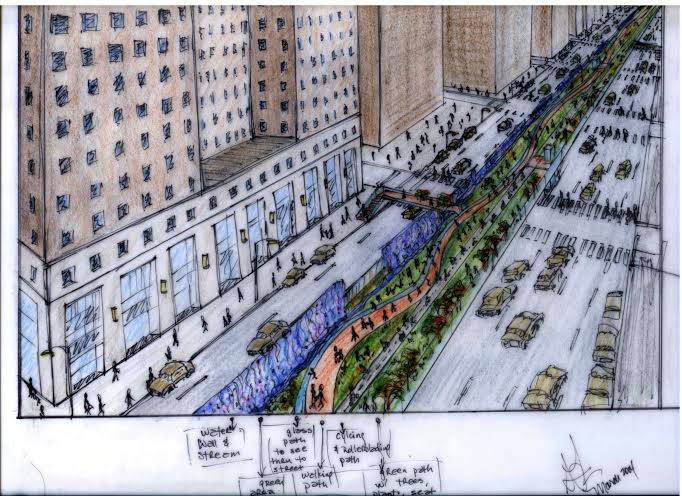 Elevating Green is a park rising in the center of Park Avenue, New York. Utilizing the full length of Park Avenue, Elevating Green connects to the city with views, while also allowing sections to feel more relaxing with greenery, seating and shade.
In addition to our two winners, we also received six more inspiring proposals envisioning the future of urban green spaces:
Urban Connections
Green spaces within cities are the hubs that bind people with the environment. Raised parks allow pedestrian traffic to meander through green systems such as plazas, gardens, open lawns, public art, and play spaces, making Park Avenue a comfortable and welcoming urban destination. With highly active circulation, these heightened green spaces connected by walking paths separate the rational ordering of architecture, sidewalks and streets, and increases the sense of a park as a refuge. Designed to encourage gatherings and everyday use, Urban Connections draws inspiration from its context to create park systems stretching four miles the length of Park Avenue.
Inner Stillness
Homeostasis is a state of relaxation where people's needs are fulfilled and therefore one can go forward to prosper in their surrounding environment. An urban park helps fulfill the need of relaxation on Park Ave's "Inner Stillness" through soft natural surroundings. Park Ave is now a pedestrian thoroughfare creating a prairie punctured by a light rail, meandering paths, and public spaces that unfold to accommodate for social interaction. Along the full length of Park Ave, formed areas designate quiet lounges, flea markets, farmer markets, outdoor restaurant seating, and the promotion of healthy physical activity.
Baffling Park
Escape from the urban jungle of New York City and explore the mysterious Baffling Park as it weaves along Park Avenue alternating from west to east side every city block. Ba ing Park transforms Park Avenue for a very natural pedestrian experience by slowing tra c and increasing driver awareness through the weaving design. The elimination of the central median allows the path to wander and weave the tra c and people. This park becomes a bicyclist path with a three mile stretch uninterrupted by the interference of New York City tra c, as well as plenty of space left for joggers, dog walkers and city dwellers that enjoy vacationing in the thriving in nature. Ba ing Park is lled with a variety of tree species which are trained by tree shapers creating natural art that is illuminated with arti cial moon lights in the nightfall allowing the shadows to dance the night.
Space Walk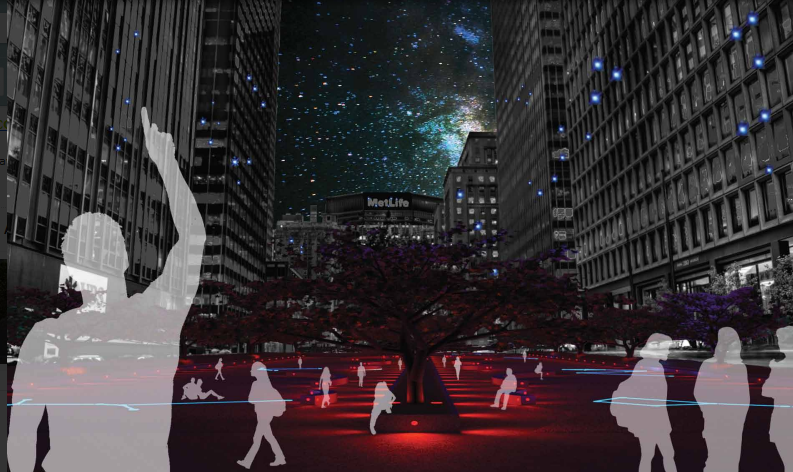 Park Avenue is transformed into a nighttime oasis. Space Walk park has the ability to open people's minds and expose sometimes forgotten natural aesthetics. Introducing low impact lighting to a half mile stretch gives way to the sky, revealing the once hidden stars. People wander, wonder, and interact with the constellations as they seemingly fall from the sky. Now a dialogue is created. Where does New York City fit into the big picture of Earth? The Galaxy? The Universe?
Water Awareness
There are millions of gallons of grey water and storm water circulating through Park Avenue and its adjacent buildings every day; however the water is often unseen. A park can make this enormous amount of water visible to people while making the area even more beautiful. This design collects and remediates runoff and grey water in an interactive and fun way. People are more aware of where their water is coming from and how New York City can benefit from the never ending cycle that makes life possible.
City is Park; Park is City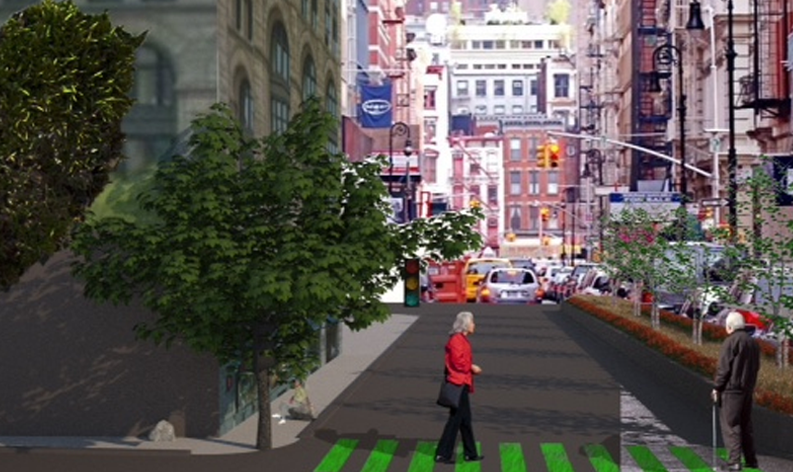 A park and city are one. A park is not simply a designated area where grass is allowed to grow, and a city is not simply a mass of vertical concrete. In City is Park; Park is City there is a continuing flirtatious game between green and grey; a seamless transition between human-made structure and natural environment. Moss graffiti replaces traditional graffiti. Grassy inclusions replace areas of brick and concrete. Park and Avenue intertwine in one form.